Music is an integral part of the Wake Robin Community. No greater example of that can be seen than during the holiday season. The Wake Robin Chorus and the Wake Robin Handbell Chorus that have been diligently practicing all semester, finally had the opportunity to perform for their friends and family.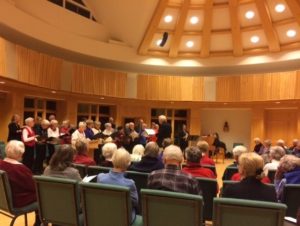 The chorus concert was held on December 5th at All Souls Interfaith Gathering here in Shelburne. It features approximately thirty Wake Robin Residents. Directed by Rufus Patrick who is not only the founder and director of the Hinesburg Artist Series – he also conducts for the South County Chorus, the Hinesburg United Church Choir, All Souls Interfaith Gathering Choir in Shelburne, and the Waffle Tones (among others!). The holiday program included holiday classics like "Deck the Halls" and "O Little Town of Bethlehem" but also classic compositions such as, "Down by the Riverside".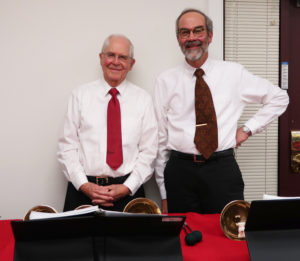 The Wake Robin Handbell Concert was on held on December 13th. There were two performances (an early and late show) in the Wake Robin Meeting Room. The handbell choir is composed of eleven resident members and is directed by Jerilyn Bergdahl. This musical program featured holiday favorites like, "Hark the Herald Angel Sing" and "Welsh Christmas Lullaby" as well as an audience sing-along to "Jolly Old St. Nicholas."
These musical groups add another layer of community to Wake Robin. Walking past the meeting room while the chorus and handbell group are practicing always brings a smile to residents and staff. We are so happy to ring in the New Year with such great performances and to hear what they have in store for 2019!